Introduction of Yawatahama City
Introduction of Yawatahama City
Yawatahama City is a city located at the root of Sadamisaki Peninsula, which is at the west edge of Ehime Prefecture. To the north of the city is the Iyonada Sea, and to the west is the Uwakai Sea. Most of the city is in a hilly area, and a deeply indented coastline runs along the sea. The city has a mild climate and is scenery. Historically, trade with the Kyushu and Kansai regions flourished in the city, which was known as "Osaka of Iyo," or the center of trade of the area. Currently, the city has a leading port of Western Japan called Yawatahama Port, through which nearly 400,000 people come and go every year. The city has developed as the western entrance of the Shikoku region and a base of transaction and trade activities in the western Shikoku region.
Making use of mild climate and terrain, citrus growing is prosperous. The city is a leading producer of Satsuma mandarins in Japan and produces well-known mandarin brands in the country including Hinomaru, Maana, Kawakami, and Mitsuru. The mandarins taste particularly good as they are grown in "three kinds of sunlight;" direct solar light, reflected light from the sea, and radiant heat from stone steps of terraced fields.
The fishing industry is also thriving. The city is especially known for the largest fish market in the Shikoku region. Yawatahama Port has developed as a good natural harbor and is a base for middle-scale trawl fishing fleets which land many various seasonal fishes there. The busy market atmosphere in early mornings and a direct-from-the-port market Doya Ichiba is a specialty of the city.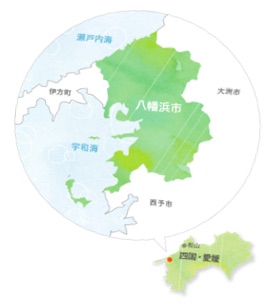 ◉Location 
The city is at the very west edge of the Shikoku region and the root of the Sadamisaki Peninsula, the longest and narrowest peninsula in Japan. To the east is Ozu City, to the south is Seiyo City, and to the west is Ikata Town.
◉Climate and Geography 
To the north is the Seto Inland Sea and to the west is the Uwakai Sea. Yawatahama is a town with a mild climate and full of nature. The city is surrounded by mountains and the sea, with a small area of flat land and a deeply indented coastline.
◉Access 
From Matsuyama City, it takes approximately 1 hour and 30 minutes by car or approximately 50 minutes by JR train. From Beppu Port in Oita Prefecture, it takes approximately 2 hours and 45 minutes by ferry. From Usuki Port, Oita Prefecture, it takes 2 hours and 20 minutes by ferry.
◉DATA
Population: 34,194 
Households: 16,186 
Area: 132.68 sq. km
◉Official Website
http://www.city.yawatahama.ehime.jp/